A basic manual toothbrush will always beat an electric on things like price, charge and portability, however, there's a reason dentists recommend you go electric in the morning.
Quite simply, the performance of a powered brush head can't be beaten and the rapidly moving bristles can make up for the inadequacies in technique that we all suffer from when we manually brush. They can more effectively remove debris and bacteria on the surface, in between teeth and at the gum line to leave behind clean, healthy teeth.
Electric brushes can be broadly broken down into sonic and oscillating, which refers to how the brush head is powered and how it cleans the teeth. Sonic brushes use vibrations, with tens of thousands of pulses every second; while oscillating brushes rotate clockwise and anti-clockwise at similarly high speeds.
They will both get the job done, so which technology you choose often comes down to personal preference. Although, according to our testing group, an oscillating brush is closer to the sensation of manual brushing, while sonic products feel very powerful in the mouth.
Of course, one of the main advantages of electric brushing is the advanced functionality in terms of different brushing modes for different results (sensitive, whitening, etc.), timers to let you know how long you've been brushing for, pacers to let you know when to move on to a different area and even dedicated apps that help you improve technique.
However, all that tech is useless without the battery life to back it up, which is why we were keen to know how the advertised charge time stood up in real life testing, brushing for the recommended two minutes, night and day.
A good electric toothbrush should be able to provide teeth with a satisfying, deep clean without being too harsh on gums and offer value, effortless charging and portability; so, here's a run-down of the brushes we feel are well worth retiring your manual for.
How we tested
We handed all our brushes over to a family of five, all with very different brushing needs. Within the family there was gingivitis, a brace wearer, and the need for some whitening, and all the testers admitted that they rarely had a clean bill of health after a trip to the dentist.
We asked them all to rate the brushes on how thorough and comfortable the cleaning action of each product was and how confident the brush made them feel that their teeth were being deep-cleaned, so that their next trip to the dentist wouldn't be so traumatic.
The best electric toothbrushes for 2022 are:
Suri electric toothbrush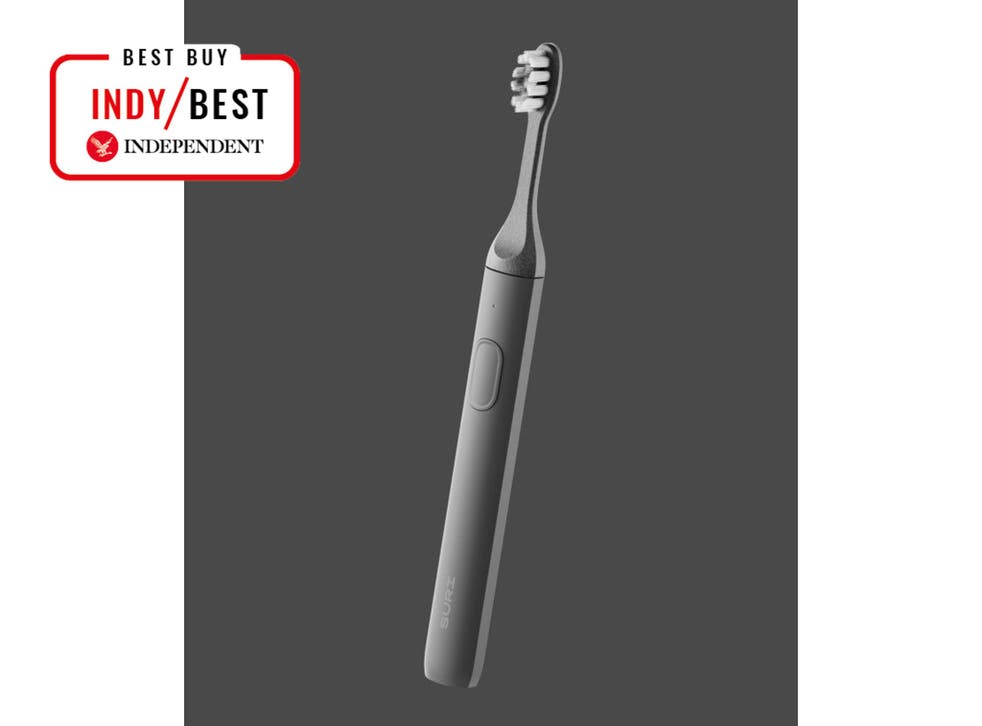 Best: Brush for under £100
Rating: 9/10
Modes: Polish, everyday clean
Battery type: Li-ion
Accessories included: UV cleaning case, wall-mount stand
Battery life: 30 days
Returns: 100 day money-back guarantee
Travel case: No
App connectivity: Np
There are some sustainability issues with electric toothbrushes, as plenty of them end up in landfill, which is why staying away from inferior products with short shelf lives is particularly important. However, the Suri wellness brand is attempting to address the issue head on with its first sonic brush, which it claims is the world's most sustainable toothbrush.
The brush's plant-based head and bristles combine with a recyclable aluminium body, so carbon footprint credentials are well established. While the slim aluminium handle not only adds to the sleek styling (which we thought was one of the nicest designs on test), but also translated to excellent ergonomics, without any slipping, even when the handle was wet. The 33,000 vibrations per second performed an efficient clean, particularly in between the teeth, so the brush might be particularly suited to users with gum disease.
Lined up against the other brushes we were testing, the Suri was significantly smaller, making it easier to manoeuvre in the mouth and adding to the overall portability, which is already very good thanks to a sleek UV-C Led self-cleaning case. We were also impressed with the Suri's battery, which lasted for almost a month without a recharge. It's available to pre-order now for spring delivery.
Brushd electric toothbrush
Best: For long trips away
Rating: 7/10
Modes: 3
Battery type: Li-ion
Accessories included: Two heads, wireless charger
Battery life: 30 days
Returns: 30 day money back guarantee
Travel case: No
App connectivity: No
This is another eco-friendly, sonic brush that ships with recyclable brush heads, which are then shredded, melted and made into new products when you're done with them.
In terms of its design, the Brushd is all about the curves and we really liked the look and feel of its fully-rounded, cigar-shaped handle, which was very comfortable to use. The round end does mean you won't be able to stand the brush up on its own in your bathroom, but it comes with a wall-mounted holder to keep it stored, or there's a free-standing separate ceramic holder that you can buy for £4.99 (£4.99, Brushd.co.uk)
The three brushing modes cover clean, sensitive and whitening and there's an interval timer to guide you around your mouth during your two minutes in front of the mirror. We also eked a little more out of the brush than the advertised 30-day battery life.
It's worth mentioning that the brush is designed to be used with toothpaste tablets (these foam up after you bite down on them ) which could be an advantage when travelling as the tablets are compact and airport security friendly, so you just have to decide how many you'll need.
Read our review of the Sanyei ion-sei, another toothpaste-free brush
Philips sonicare 9900 prestige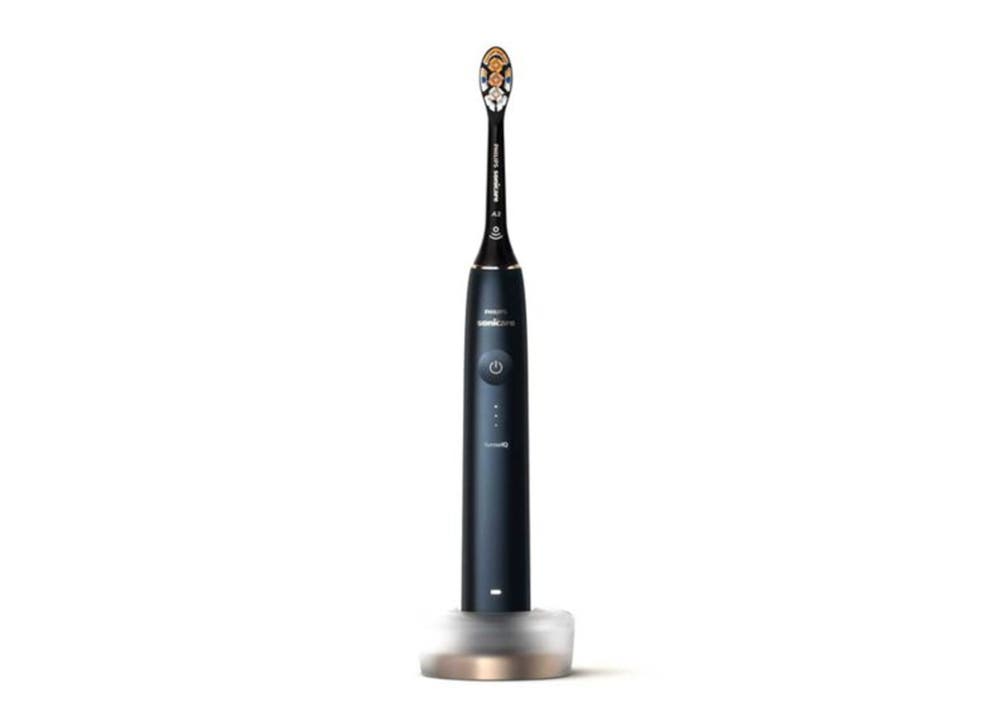 Best: Brushing app
Rating: 8/10
Modes: 5
Battery type: Li-ion
Accessories included: USB charging case, base and cable, brush head
Battery life: 14 days
Returns: 28 day money back guarantee
Travel case: Included
App connectivity: Yes
For a premium product, Philips haven't packed the 9900 itself with lots of buttons and lights. Instead it relies on you going into the accompanying app to tailor your brushing routine and pin point which of the five modes is best for you. This means that the brush has a very clean look on your bathroom shelf with just one prominent power button, and in-hand it feels well balanced as you move the brush around your mouth.
Underpinning all this is the usual powerful sonic performance that we've come to expect from the Sonicare range, that effortlessly delivers a deep clean. The complexity of the app means that there's no need to keep switching out your brush heads, and instead there is an all-in-one head that simply does the app's bidding.
If you're a particularly brutal brusher, the 9900 has a couple of features that can really help your routine as it will warn you if you're brushing too hard, and, if you still continue to press too hard the brush will take matters into its own hand, pausing for a second and then powering down to a gentler mode. Battery life was excellent too, with two weeks of brushing available from a single charge.
Read our review of a previous model, the Philips sonicare 5100
Oral-B iO9
Best: For brace wearers
Rating: 9/10
Modes: 7
Battery type: Li-ion
Accessories included: Charging travel case
Battery life: 14 days
Returns: 30 days money back guarantee
Travel case: Incliuded
App connectivity: Yes
While we wait for Oral-B to launch the iO10 later this year, there's still plenty to attract you to the current iO brush with its pleasing design and LED graphics that denote which one of the seven modes you're currently in.
The oscillating action feels like it's cleaning the teeth very thoroughly, although if you have sensitive teeth it's definitely worth cleaning in that mode to make sure you aren't aggravating teeth and gums. Our brace-wearing, teenage tester found that the oscillating action seemed to produce much better results for clearing and cleaning braces compared to sonic brushes, with the action of the brush head particularly suited to loosening food left behind after eating.
Oral-B's excellent app backs up the brush's performance, so if you do have time and are interested in utilising all the tech that's packed into the handle to improve your technique you will be able to really fine tune your brushing regime to get the most out of the brush and value for money.
Ordo sonic +
Best: For whitening
Rating: 8/10
Modes: 4 – clean, white, massage and sensitive
Battery type: Li-ion
Accessories included: USB charging base, travel cap
Battery life: Three weeks
Returns: Two year warranty
Travel case: Travel cap included
App connectivity: No
In terms of design, the Ordo looks similar to a Sonicare brush and it performs like one too with the 40,000 sonic pulses per minute that it delivers giving a very satisfactory clean. There are four brushing modes to choose from and a timer gives you plenty of control over how the brush performs. We really liked the W-shaped profile of the bristles in the head too, which seemed to make it easier to get to all the exposed tooth surfaces.
The brush head also has a cross in the middle of the bristles, made from silicone, which helps whiten and polish the teeth as you brush, and all our testers felt that this addition was very effective in getting rid of longer term stains. However, there is no pressure sensor, so if that's something that you particularly need in order to brush efficiently, then this might not be the brush for you. But the battery life was even better than claimed – roughly four weeks, rather than three.
Spotlight oral care sonic toothbrush
Best: For brilliant value
Rating: 9/10
Modes: 3
Battery type: Li-ion
Accessories included: Protective travel case
Battery life: Two weeks
Returns: 28 days if unopened
Travel case: Included
App connectivity: No
There's a lot to like about this sonic brush, starting with the price, which also includes three replacement heads. Unobtrusive design and a nicely proportioned handle means that it looks and feels like a premium brush, and its three brushing modes will be enough to deliver on a range of oral hygiene goals, whether that's keeping your dentist happy at your next check-up or gradually whitening teeth for a healthy smile.
In operation, it doesn't feel harsh on gums although there's no warning light to tell you that you're brushing too hard, which might be a concern if you're usually a little heavy handed with your dental hygiene. It's also fitted with a quality battery, and we found that the brush only needed one top-up charge in the month that it was on test.
Philips sonicare one
Best: For younger teens
Rating: 7/10
Modes: 1
Battery type: Li-ion
Accessories included: Travel case
Battery life: 90 days
Returns: 28 day money back guarantee
Travel case: Included
App connectivity: x
This new offering in the Sonicare range is a triple-A battery powered brush that combines the usual Sonicare brush head and w-shaped bristles with a very sleek, contoured handle that's very pleasant to hold and offers good grip. Offering a two-minute timer and pacer and one mode of brushing, this is a simple, effective and very portable brush that still offers the deep clean that we expect from Philips sonic technology. Younger brushers will most-certainly like the bright colours that this one is available in too.
Oral-B iO6
Best: Mid-range brush
Rating: 7/10
Modes: 5
Battery type: Li-ion
Accessories included: Travel case
Battery life: 14 days
Returns: 30 day money back guarantee
Travel case: Included
App connectivity: Yes
A little further down in the iO range comes the 6, which we still really like because it offers many of the features of the flagship brushes in the range at a less bruising price point.
It is a little chunkier to hold than its stable mates, but this might actually suit some brushers who find the slender designs a little slippery while brushing. The signature, round oscillating head is powered by five brushing modes and the brush still links up with Oral-B's excellent app, which can give you insights into your brushing performance, as long as you put in the time with it. Pressure sensor, timer and pacer all give real-time feedback as you brush, and the battery life is enough to get you through a week of cleaning before you have to think about docking it on the charger for a couple of hours.
Silk'n toothwave
Best: For reducing stains
Rating: 7/10
Modes: 3 intensity settings
Battery type: Li-ion
Accessories included: Travel case
Battery life: 7 days
Returns: 90 day money back guarantee
Travel case: Included
App connectivity: x
The handle and brush head of the toothwave were bigger than we were used to, although the all-white casing and brushed metal strip, that runs the length of the handle, will appeal to those who appreciate a nice aesthetic. The casing is probably bigger because the brush is packing some technology, called DentalRF, which sends mild radiofrequency waves that are designed to loosen the chemical bonds that cause tartar and staining, so that they can be more easily brushed away.
Rather than brushing modes, there are three intensity settings, and we found the highest level was the one that really felt like it was deep-cleaning  – there was clear evidence that after four weeks with the brush, some staining on the teeth was becoming noticeably lighter. There are two different-sized brush heads and the brush has a pacer and a two-minute timer, which switches the brush off after two minutes.
A full charge will give you a week's use without having to worry about a drop in performance.
Foreo ISSA 3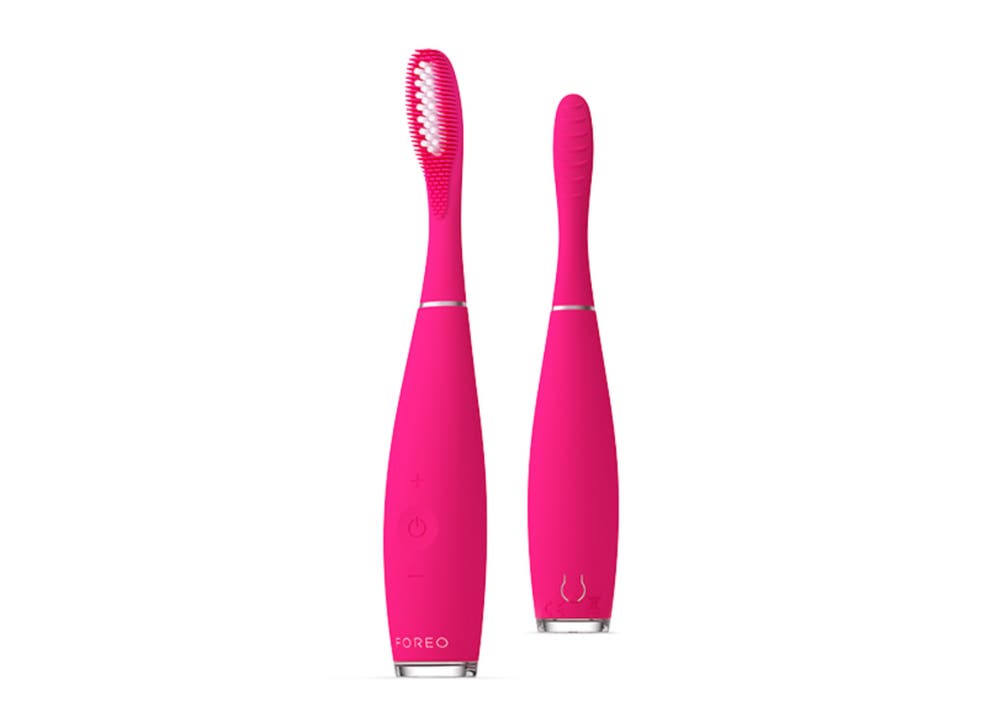 Best: For sensitive gums
Rating: 6/10
Modes: 16 intensity settings
Battery type: Li-ion
Accessories included: Travel pouch
Battery life: 180 days
Returns: Two year warranty
Travel case: Included
App connectivity: No
The Swedish brand has a new sonic brush in their ISSA range. It comes with 16 intensity settings so you can cycle through to find the one that suits you best, and perhaps even increase the intensity as you get more comfortable with the medical-grade, soft-silicone brush head and polymer bristles. And trust us, they do take a bit of getting used to.
The uniqueness of the brush head and bristles means that the deep-clean feel is lacking, but the polymer material in combination with the sonic pulses meant that there wasn't a kinder brush to gums on test. If you're looking for a brush where you can really dial-in the sensitivity then this is a very good option.
If you turn the brush head over you also have a tongue and cheek cleaner, which aims to make for a healthier environment inside your entire mouth. The brush still looks striking and feels incredibly comfortable to use, and it will take a lot to run down the battery as we didn't notice any drop in performance even after using it for an entire month.
Electric toothbrush FAQs
Do dentists recommend Oral-B or sonicare?
Oral-B and Philips's sonicare are two of the most widely recommended toothbrush brands by dentists, but there's no industry consensus on which electric toothbrush is best. Dentists recommend a wide range of electric toothbrushes, and depending on which brand you ask you'll get a different answer.
One thing almost every dentist agrees on, however, is that electric toothbrushes are better at cleaning than manual toothbrushes. Even more important than the type of brush you use is practicing good dental hygiene habits: brushing regularly and for the dentist-recommended two minutes, reaching all parts of the mouth, and flossing.
Are round head electric toothbrushes better?
Round head electric toothbrushes oscillate thousands of times per minute, enough to efficiently remove plaque, bacteria and debris while brushing. A sonic or ultrasonic toothbrush, which is more likely to have a standard-shaped head, pulses tens of thousands of times per minute to break down and dislodge plaque, bacteria and debris.
There's not a whole lot of evidence that sonic and ultrasonic toothbrushes are more effective than standard electric toothbrushes at cleaning teeth, but on paper the newer technology packs more vibrations per second and could help remove plaque more quickly.
Are electric toothbrushes better than manual toothbrushes?
Research shows that electric toothbrushes are more effective at cleaning teeth and protecting from gum disease if they are used properly and for the recommended time. That's because the vibration of the bristles works extra hard to remove plaque from your teeth and reduce the risk of inflammation of the gums. Oscillating (rotating) and sonic (vibrates at very high speeds and frequencies) electric toothbrushes have been found to work even harder.
Electric toothbrushes often have extra features that are also significant. A built-in timer, for example, can help ensure you brush your teeth long enough. Some toothbrushes even connect to your phone to bring you personalised brushing advice.
Some people report being more focused when cleaning their teeth with an electric toothbrush and kids tend to find them more fun – especially if there are associated child-friendly apps involved. People with braces can also find it easier to keep their teeth clean with an electric toothbrush.
But electric toothbrushes are more pricey than manual ones and finding replacement heads isn't always easy. It's also worth noting that not everyone likes the feeling of using them.
Can electric toothbrushes be bad for your teeth?
Brushing too hard and fast with an electric toothbrush can permanently damage teeth enamel and cause gum recession. But electric toothbrushes can only damage teeth and gums in this way if excess pressure is applied, so always make sure you allow the movement of the toothbrush to do all the hard work.
Top features to look for in an electric toothbrush
Brushing timer – This will help to make sure your teeth are brushed for the dentist-recommended time of two minutes. Some electric toothbrushes are programmed to be on for just two minutes, while others will alert you by beeping or vibrating when it's time to stop.
Brushing modes – Some brushes, often those that are more expensive, come with a range of brushing modes, which are designed to tailor your electronic toothbrush to your cleaning needs, for example, if you have sensitive teeth, you can opt for a more gentle setting.
Pressure sensor – Pressing too hard against your teeth can cause harm to your gums, so some electric toothbrushes have pressure sensors to alert you when you're pushing too hard.
Mobile apps – A range of electric toothbrushes have Bluetooth meaning they can connect to your phone via an app, doing so gives you additional data on how you brush your tooth. With some apps, such as Oral B, you'll receive real-time feedback, as well as tips and instructions.
How to use an electric toothbrush properly
Hold your toothbrush at a 45-degree angle towards the gum line. Move the brush gently back and forth, with a circular movement over the front, back and top of your teeth. Don't scrub, especially along the gum line, and use floss for harder-to-reach areas between the teeth. Some toothbrushes also allow you to brush your tongue to avoid cavity-causing bacteria.
You should spend at least two minutes using this technique, spending 30 seconds on each section of your mouth – upper right, upper left, lower right and lower left. Repeat both morning and night.
How to clean an electric toothbrush
To make sure your electric toothbrush stands the test of time, we'd recommend cleaning it regularly. Rinse the toothbrush head and electric body after every use to remove toothpaste build-up and excess grime. A cotton bud can also be used to reach harder areas, such as the base, or a damp cloth for tougher debris.
How long do electric toothbrushes last?
The average electric toothbrush lasts three to five years. Many electric toothbrushes come with a two-year warranty. But you will need to change the heads more frequently – the general advice is at least every three months. Some of the newer electric toothbrush heads have colour change indicators to alert you when it needs replacing.
Are electric toothbrushes eco-friendly and can they be recycled?
Yes and no. Yes, because when it's time for a new toothbrush, you only have to replace the head. No, because they are still made of plastic and after their lifespan, they have to go to landfill. Although toothbrush heads are not generally recyclable, it's worth noting that because electric toothbrushes last longer, you don't have to replace them as often as manual ones. What's more, the heads are a lot smaller than a whole manual toothbrush, leading to less plastic waste overall.
But there's nothing to stop you from recycling batteries and cables, and a growing number of brands are offering recycling services. Colgate's oral care recycling programme accepts the whole toothbrush, packaging and all. To use the service, take your unwanted products to one of the drop-off locations across the UK. You can find the full list of collection bins here.​
The verdict: Electric toothbrushes
Clearly, a lot of thought has gone into the design of the Suri electric toothbrush because its sleek handle felt very natural to use, while the design of the sonic-powered brush head delivered a deep clean that everyone who picked up the brush was very impressed by. Good functionality, sustainability and excellent value makes this an impressive new arrival on to the electric brush market.
Voucher codes
For the latest offers on electric toothbrushes and other tech products, try our discount code pages below:
For a dazzling smile, try one of the best whitening toothpastes